Disrupting fashion: becoming the most sustainable clothing brand on this planet
As a responsible and sustainable clothing brand, we ensure all of our manufacturing methods go above and beyond the ideals of our growing customer base, working hard towards our vision to build a better future for our planet.
We believe that sustainable, ethical and environmentally conscious fashion is the future! Jolly Elephant is taking steps to ensure we're part of the movement of the green, growth mindset.
10% of net profit goes to the David Shepherd Wildlife Foundation, a UK registered charity (1108693)
Clothes are designed and printed in-house to reduce "product miles" from cotton farm to doorstep
We reduce textile waste by only purchasing small quantities of stock and printing most clothes to order
Misprinted and returned products are donated to charity shops and homeless shelters
100% of the electricity used at our warehouse comes from on-site solar panels
Zero plastic packaging in our entire clothing supply chain – from the factory to doorstep!
Our packaging is recycled and recyclable (including the packing tape!)
All paper (including pack-ins) is chlorine-free, FSC certified and awarded with EU Ecolabel
Carbon-negative delivery – use eco-focused providers and offset the carbon footprint of our deliveries
Jolly Elephant offsets the company's and employees' carbon footprint
Our clothes are made from 100% organic cotton (PETA – Approved Vegan) and recycled polyester
Our polyester comes from recycled plastic bottles
Our factory is a Fair Wear Foundation member – providing safe working conditions, no child exploitation, unreasonable work hours and more!
Factories are inspected daily, offer free childcare and pay at least the living wage
Excess fabric is used for children's bibs and stuffing for upholstery
European garment production and print standards
We only use environmentally-friendly water-based inks (non-toxic, no plastic or other nasty chemicals)
Unlike others, we don't use aerosol sprays in our print process
Products in traditional retail stores are often overproduced and more than 85% of all textiles end up in landfills. At Jolly Elephant, we avoid textile waste from overproduction by only producing or purchasing small and limited edition batches of our products.
Although we design and print our clothes at our production and warehouse facility in Somerset, all of the garments are made by carefully selected manufacturers that adhere to the strictest ethical and social responsibility standards.
Organic cotton
Our clothing manufacturer only uses 100% organic certified cotton and recycled polyester to produce our garments. Organic cotton represents only 0.7% of the 25 million tonnes of cotton produced naturally but represents 2.4% of the world's cultivated land and a massive 16% of the world's insecticides.
Non-organic cotton contributes to 200,000 deaths per year from exposure to toxic pesticides, and more than 300,000 farmers have committed suicides since 1995 due to the insanely high cost of GMO seeds, pesticides and fertilisers.
Organic cotton has a soft feel, minimal impact on the environment (PETA vegan approved, non-GMO, no pesticides and no fertilisers) and results in high-quality clothes that stay vibrant and retain elasticity for longer – significantly increasing the lifetime of your clothes.
Cultivating organic cotton ensures that no chemical insecticides, fertilisers or pesticides flow into the soil or into adjoining rivers, lakes or seas. This also means that the water used for organic farming is not considered as lost water, as it can be reused again and can return to the soil and other water sources without causing any harm. The overall positive effect on water, animals and biodiversity means that the well-being and livelihood of cotton farmers and their communities are respected and protected.
Benefits of organic cotton:
26% less potential for soil erosion
46% less impact on global warming
70% less acidification of land and water
91% less surface and groundwater use
Polyester
Our hoodies and sweatshirts contain 15% recycled polyester. Recycled polyester not only helps tackle the plastic waste problem, but also offers major energy savings in the manufacturing process. Our polyester is made from recycled plastic bottles that would otherwise go to landfill or end up in our oceans.
These bottles are cleaned, melted and purified. Then, the liquid is blown into yarn to create clothing fabrics. Our recycled polyester is sourced mainly from China. Products made with recycled polyester are soft, durable and breathable. We recycle what otherwise would become a polluting waste.
Worker's rights and working conditions
Our cotton supplier takes corporate social responsibility very seriously. They are a Fair Wear Foundation member, are regularly inspected and operate the best factories in Bangladesh.
Fair Wear Foundation (FWF) is an independent organisation that works with apparel brands, garment workers and textile industry influencers to improve labour conditions in garment factories. This includes ensuring several key principles:
employment is freely chosen
no exploitation of child labour
no discrimination in employment
a legally binding employment relationship
payment of a living wage or higher
reasonable hours of work
safe and healthy working conditions
freedom of association
Our manufacturer goes above and beyond by offering:
women empowerment programs
free training programs
on-site childcare
scholarships for workers' children
extended maternity leave
medical cover
free transportation
bonuses
fair-priced grocery shops
all employees know the Wear Fair Foundation complaints procedure
Moreover, our factories have daily visits from an independent organisation, monthly corporate social responsibility reports and regular audits for all of the certifications held by the factories.
Environmental impact
By choosing only organic cotton, we ensure that a minimal amount of water is used in crop production and also that it's not polluted by harmful chemicals.
Our factory uses leading state-of-the-art water treatment equipment. This removes all toxic elements and ensures that the water is safe enough to be discharged into the inland surface water. The treated water is also reused for car washing and gardening at the factories. This is highly monitored by the factory and government laboratories for safety.
The cutting and sowing facilities are fully powered by solar energy, with efficient motion-sensor LED lighting and sky-lights to reduce the impact on the climate.
Lastly, our manufacturer produces barely any landfill waste. The cutting is optimised to use as much material as possible, with any excess fabrics being used to make accessories.
Jolly Elephant designs, hand-prints and finishes the details on all of our clothing. We're being as environmentally friendly as possible – from having LED lighting and being mindful of printing paper, to not using aerosol sprays and correctly disposing of any inks used to print our designs.
Contrary to many other clothing companies, all of our inks are water-based and don't contain any heavy metals like lead or other nasty chemicals. We have also been able to eliminate aerosols from our production process, which are heavily relied upon by other print facilities.
By designing and printing our clothes in-house, we can control our production but also reduce the "milage" of our products from cotton farm to your doorstep. Moreover, we favour a make-to-order approach and vary production to avoid purchasing and producing unnecessary stock.
Misprinted and returned products are donated to charity shops and homeless shelters to ensure that our clothing is given another chance.
Our warehouse is powered by solar power, and we offset our office and our employees' personal carbon footprints with Ecologi: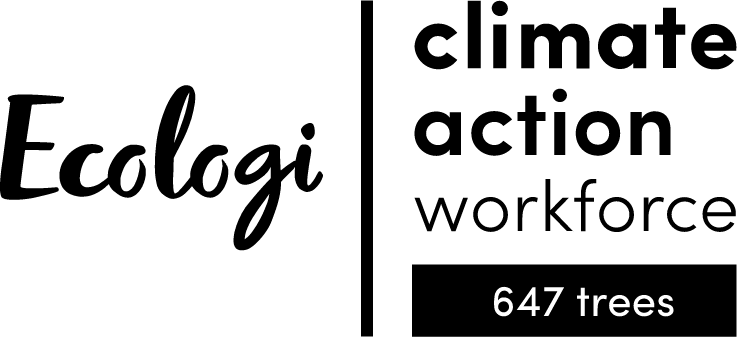 Any paper pack-ins/packing slips are chlorine-free, FSC certified and awarded with EU Ecolabel. They can also be recycled, alongside all other packaging.
Recycled cardboard boxes and tape
Orders containing several items are sent in lightweight vegan-friendly cardboard boxes. These boxes contain 60% – 90% recycled content and are fully recyclable.
Items are wrapped in acid-free eco-friendly tissue paper before the box is sealed with recyclable and eco-friendy packing tape that's biodegradable and repulpable because it contains no plastic (the glue is starch based).
Sugar cane and paper mailing bags
Smaller orders will be sent in sugar cane mailing bags or recycled (and recyclable) paper bags.
The eco mailing bags are made from a renewable source that's a by-product from sugar cane, the greenest material on the market. They are 100% recyclable and carbon neutral, as the growth of the sugar cane takes enough carbon dioxide out of the atmosphere to offset the transport and entire production process.
Moreover, our sugar cane is grown on reclaimed wasteland and therefore doesn't impact rainforests. No fossil fuels are used in the production of these bags.
The reason why we use sugar cane mailers is that alternatives such as OXY and biodegradable bags cannot be recycled and simply break down plastic into smaller pieces which could eventually lead to them being banned in Europe.
Recycle our sugar cane and paper mailers using your usual recycling bins at home.
Sustainable clothes tags
Our swing tags are made from the same recyclable, chlorine-free, FSC certified and EU Ecolabel paper as our pack-ins, and are attached to your clothes using organic cotton twine, which is plant-based, recyclable and biodegradable.
Sustainable delivery partners
Jolly Elephant works with a selection of companies to deliver your orders sustainably and on time. Here are links to some of our partners' environmental policies and what they're doing to be more sustainable:
DPD – UK's most sustainable delivery company – aims to be the greenest delivery company on this planet. They have recently started using fully electric vehicles in our area.
Royal Mail – committed to being a net-zero carbon emission business.
To ensure that all deliveries are carbon negative, we are mitigating more carbon dioxide than produced by our shipments. We do this by:
Estimating the average weight of our deliveries
Calculate the delivery distance for each order between our warehouse and customer
Calculate the average CO2 emissions, taking into account the distance and weight and also add a 10% safety margin
Plant trees to offset the CO2 emissions and make the world greener place!